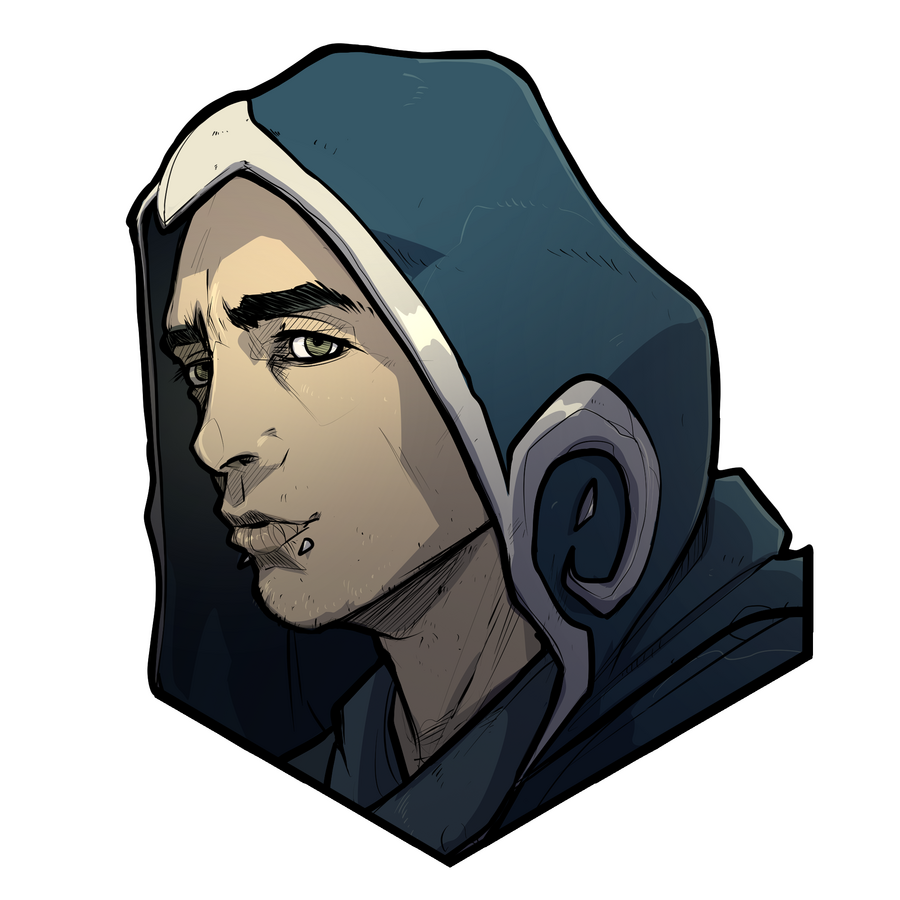 Flygohr
Handcrafted, custom character artworks by a freelance digital artist who loves tabletop gaming as much as you do
Original artwork
No soulless AI "art" or pre-made assets. Everything I deliver is hand crafted using my own creative experience.
Unlimited revisions
I offer unlimited revisions, working closely with you to ensure every aspect of the artwork meets your expectations.
10 years of experience
I've been doing this professionally for the past ten years now, and I've been drawing and creating ever since I was able to hold a pencil.
Understanding
I speak your language. I mastered campaigns, played some, tried different systems, wrote my stories and lore, and I regularly play tabletops with friends.
★★★★★
I recently commissioned flygohr for several characters drawings. They were responsive immediately and had a really quick turnaround, plus they responded to my change requests rapidly. The art was fantastic and exactly what I was looking for. I would definitely seek to commission them again in the future!
★★★★★
I contacted Flygohr for a last minute, rush commission. Despite the tight deadline, the replies were prompt and professional. The artpiece turned out phenomenally. Flyghor was receptive to, and quickly implemented, all changes I requested and kept me updated at every step of the process. A phenomenal artist to work with.
I have more reviews on Reddit!
★★★★★
I commissioned Flygohr for an original monster design/drawing. They were fast to reply to all my messages and kept me informed of all the steps along the way. I was absolutely delighted with the finished product. The quality of work, the speed of production, and the level of communication were all fantastic. Hire with confidence.
Collaborative Process: Enjoy 1:1 support and guidance with priority communication throughout our collaborative art process.

Character Development Assistance: Benefit from my experience and expertise as I assist in developing your character to its fullest potential.

Customizable Packages: From shoulders-up portraits to full-body group shots, color or black-and-white, props, items, storyboards, sketches - we can tailor packages to suit your needs.

Unlimited Revisions: Rest assured knowing there are unlimited revisions at every stage of the art process ensuring complete satisfaction with the final product.

High-Resolution Artwork: Receive high-resolution artwork perfect for both digital viewing and printing purposes.

Private Physical Print Link through INPRNT: Get access to a private link for physical prints of your commissioned artwork via INPRNT if desired.
Comprehensive Deliverables Pack: All deliverables include web version files, transparent backgrounds & tokens etc., catering to most common use cases.

Original Layered Clip Studio Paint File: For future-proof editing convenience receive original layered Clip Studio Paint file along with finished piece.

Handcrafted Original Art Style: Each piece is meticulously handcrafted by me in my distinct style without any AI usage – ensuring originality & uniqueness.

Secure Payment Via PayPal: For peace of mind all transactions are securely processed via PayPal.

Deadline Committed: You can count on me delivering quality work within agreed deadlines.

Post-Support Perks: Enjoy continued benefits even after your project is completed with discounts on future commissions, referral codes for friends and family, and priority booking for future slots.
FAQs
What if I don't like the final artwork? I offer unlimited revisions at every stage of the art process to ensure you're completely satisfied with the final product. Your happiness is my top priority.

How long does it take for a commission to be completed? The timeline varies depending on complexity and current workload but rest assured, I am committed to meeting agreed deadlines without compromising quality.

Is my payment secure? Absolutely! All transactions are securely processed via PayPal which offers buyer protection services as well.

Can I get a physical print of my commissioned artwork? Yes, upon completion of digital artwork, you'll receive a private link through INPRNT where you can order physical prints if desired, at an additional cost.

What happens after our project is finished? Can we still work together in future? Definitely! After your project's completion, there are post-support perks such as discounts on future commissions & referral codes for friends/family plus priority booking for future slots.

Do I need to know exactly what I want before reaching out? Not at all! Part of my service includes character development assistance – so even if your ideas aren't fully formed yet we can collaborate closely during consultation phase to flesh them out.

What is your refund policy? Refunds are possible if work on the commission has not yet started. However, once I've begun sketching and putting in time and effort into your project, refunds cannot be issued.

Can I use my commissioned artwork for commercial purposes? My commissions are primarily for personal use. If you're interested in using the artwork commercially, please let me know upfront so we can discuss appropriate licensing terms.

Do I own the copyright to my commissioned artwork? Upon full payment, you receive rights to display/use the art personally (including printing & online posting). However as artist retain copyrights meaning it cannot be altered/resold without prior permission.

How do revisions work during design process? Is there a limit? I offer unlimited revisions at each stage of the art process. However, it's important to note that once you approve a stage (like sketching or linework), we can't go back to make major changes without additional costs. This is why I encourage thorough feedback and revision before moving on to ensure everything aligns with your vision.

What information do I need provide when ordering a commission? The more details better! This includes character descriptions/backstory; preferred poses/emotions; color schemes etc.; any reference images also greatly help.
★★★★★
As of this comment, this is the third (and not last) time I've commissioned Flygohr.He's great to work with and I love seeing the ideas I've had become actual drawings.Quick replies, excellent art, and good prices are what you can expect and I'm definitely gonna commission him for more pieces in the future!
★★★★★
I recently commissioned u/flygohr for a D&D character I am playing. They worked with me to get the most important aspects of the character into a piece within my budget and came up with a better image of my character than I had in my head. They were very responsive and accommodating and I could not recommend them more! The art style is also quite unique to make it stand out among the other pieces commissioned in my D&D campaign and I'll definitely contact them again in the future!
I have more reviews on Reddit!
★★★★★
I recently worked with Flygohr to commission an original character/creature for a hobby project game I am making. Flygohr was very quick to reply and carried out my vision flawlessly. It was all handled very professionally and worked with me to revise anything that was done. I HIGHLY recommend Flygohr for any projects you may have. You WILL be happy with the result. Pleasure to work with and the work is top notch.11/10
Start your next adventure
Fill out the contact form below or drop me an email at [email protected]. I'll do my best to respond within 1-2 business days. To ensure you receive my reply, please add me to your contacts and check your spam folder just in case. Looking forward to hearing from you!
Thank you!
Thank you, your contact form has been submitted!I'll do my best to respond within 1-2 business days. To ensure you receive my reply, please add me to your contacts and check your spam folder just in case.Looking forward to hearing from you!